2012's Best Producer in Tamil Cinema
PUBLISHED DATE: 03/Jan/2013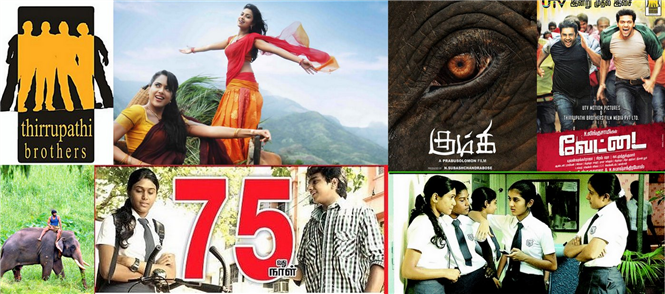 2012's Best Producer in Tamil Cinema
---
One tends to overlook the instrumental role played by a producer in picking the winning script, assembling the right team, arranging the funds, standing behind the director's vision and promoting the movie before and after the movie release. It is becoming rare to see such kind of end-to-end commitment from producers in Tamil industry that looks for the easiest way to make a quick dime. Let us rank the producers who had strived to improve the quality of Tamil cinema while keeping the trade satisfied in 2012.
1. Thirupathi Brothers - Lingusamy
---
Lingusamy produced 2 critically acclaimed movies, 'Vazhakku Enn 18/9' and 'Kumki', this year. Both the movies made huge impacts among the audience and critics. Vettai was a commercial venture directed and co-produced by Lingusamy along with UTV. It had above average run at the box office. Overall, Lingusamy is the best producer of 2012 for producing two meaningful films which were successful at the box office.
2. Red Giant Movies - Udhayanidhi Stalin
---
Udhayanidhi Stalin struck a fine balance between an out-and-out commercial entertainer Oru Kal Oru Kannadi and a hard hitting critically acclaimed film Neerparavai dealing with a sensitive social issue. Another notable aspect that the industry respects about Udhay is his ability to pick the right films to produce and his steadfast support for the project right from day one until the last print returns back after release.
3. Thirukumaran entertainment - C V Kumar
---
Producer C V Kumar made his entry into film industry with Attakathi this year and later went on to produce Pizza. Kudos to this gutsy new producer and his knack of picking the budding directors such as Pa. Ranjith and Karthik Subbaraj who in turn provided a platform for launching a number of other talented technicians.
4. V Creations - Kalaipuli Thaanu
---
V Creations produced one of the biggest blockbusters of all time in Tamil cinema. Thuppakki revived the box office and resurrected the faith in big budget films. Kalaipuli Thaanu inherited this 50 Crore project from SA Chandrashekar when it was at the verge of being dropped due to difference in opinions between the director and SAC.
5. UTV Motion Pictures South - Dhananjayan
---
UTV's professional approach has got them the place in this list. Their Kalakalappu earned table profit and delighted everybody in the trade with successful BO run. UTV also co-produced Vettai. Although Mugamoodi and Thaandavam received mixed responses, they were spot on in announcing the release dates months in advance and stuck to those dates. If there is one thing that our Tamil producers should learn from UTV South is their respect for deadlines.
Notable Mentions
Gemini Film Circuit produced big budget Nanban, long-delayed 'Podaa Podi' and distributed super hit Thuppakki. PVP Cinema has been planning to enter Tamil Industry in a big way had the guts to make bilingual, 'Naan Ee', in which a computer generated housefly plays the central role. Studio Green had better luck on the distribution side with Attakathi and Kumki than on the production side. Studio Green is becoming a strong force to reckon with their extensive network in deep down south and ability to whip up strong promotions.